Location
Shanghai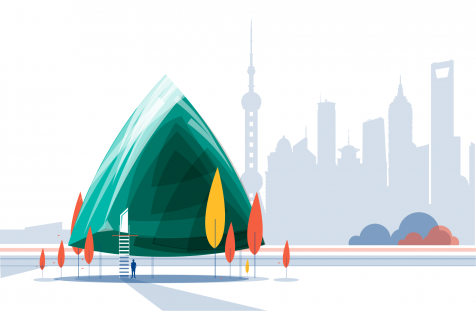 Shanghai is another of our larger offices, and you'll find us in the centre of the city next to the Natural History Museum and Jing'an Sculpture Park. Our building is a Gensler-designed addition to the Jing'an skyline; a 60-story prime office building and retail pavilion with great transport links. Inside, you'll discover everything from fine dining to relaxing spaces, all with spacious interiors and outdoor terraces overlooking the entire park.

Company Description
Third Bridge was founded on the belief that human insights drive intelligent investment decisions.
To make the right investment decisions, our clients require access to the most relevant experts and their insights – we enable this through private consultations and exclusive content drawn from expert interviews.
Our clients consist of some of the largest private equity funds, hedge funds, mutual funds and management consulting firms, who are serviced by a team of over 900 employees located across eight global offices.
Third Bridge operates in a global, multi-billion-dollar market with double digit annual growth, employing over 1300 employees located across 7 global offices. Third Bridge has consistently received accolades for Great Places to Work and the top 100 fastest growing companies. 
Job Description
Job description: Business Analyst (Discovery - China Maps)
 
Position Overview
Third Bridge's Discovery team is dedicated to producing and developing innovative products to address our clients' needs. We capture, map and distribute knowledge to assist our clients with their research.
The Business Analyst position is a key enabler in the creation of the end product as well as in the design of tools and processes to create the end product. 
Reporting to Manager - Discovery, you will interact daily with our specialist community. As specialists are a shared resource, you will also frequently interact with Forum and Connections stakeholders who will benefit from the output generated. Finally, as we are working in an agile way, you will be closely involved across business, product, data and development initiatives and work closely with our internal product, tech and data consolidation teams. 
Responsibilities
Your main responsibilities will be to engage with our specialist community and use our Mapping tools to create Maps of our specialists expertise. In doing so, you will assist in improving our operational processes and providing continuous feedback on our data capture and visualisation tools alongside a dedicated team of engineers. As the Maps product is in early stage growth, you will also have exposure in contributing to the roll out and automation strategy of our approach.
Qualifications
Skills
Excellent interpersonal and strong communication skills with Proven experience in communicating effectively and building relationships quickly over the phone
Critical, analytical and creative thinker who is able to detect areas for improvement and suggest innovative solutions
Ability to work under pressure and at a fast pace with 
Autonomous and confident with a strong work ethic to be able to work well in uncertainty
A strong interest in financial markets, research or understanding of how different businesses or industries work
Sector expertise in either Consumer, Healthcare, TMT, Industrials Materials and Energy, Financials, or interest to develop specific expertise is a plu
Additional Information
What can you expect:
Competitive salary 
Flexible career and development path, with opportunities to gain a wide range of transferable skills 
A variety of insurance plans 
Modern Health to focus on your mental wellness with free coaching sessions, online therapy sessions and meditation resources
Monthly social events
In-office perks, including snacks, weekly lunches, coffee, tea and drinks
As well as looking at your work-life balance:
2 annual volunteer days - so you can help a charity or good cause of your choice
2 personal days - for when life throws you a curveball
Summer Fridays - so you have more time to enjoy the weather
Work from Anywhere - visit family or extend your holiday by working abroad in approved countries for up to one month each year
And finally, real-time rewards which concentrate on outstanding performance and teamwork using our colleague-to-colleague recognition program. Watch your points grow and spend them on:
Savings on hotel stays worldwide
Gift cards for major retailers including Amazon and H&M
Donations to charities
And more!

The successful candidate must, by the start of the employment, have permission to work in the country they are applying. 
We know that to be truly innovative, we need to have a diverse team around us. That is why Third Bridge is committed to creating an inclusive environment and is proud to be an equal opportunity employer. If you are not 100% sure if you are right for the role, please apply anyway and we will be happy to consider your application.